In this post, we will lay out our top 20 tips to travel on a low budget. We have been traveling the world non-stop for the past 6 years and will share with you our best budget travel tips that will help you on your next vacation! 
Whether you are planning a tropical escape in the near future or a road trip on a budget, we've got you covered. We're not exactly sharing how to travel for free but how to minimize your costs so your budget will last as long as possible.
Let's get to it!
Our Top 20 Best Budget Travel Tips
Earn in high-income countries, spend in low living costs countries
We're not gonna lie to you. Some money is required upfront.
Your 4 basic expenses will be: flights, visas, food, and lodging and the first 2 cannot be avoided. 
Hence our first budget travel tip. The best way to finance your travels is from savings. Best done if working in a country with high wages to be spent on traveling in countries with low living costs. 
Depending on what sort of work you do and where, 3 months of savings from a job in the western world can finance 6 months of smart traveling on a budget. 2 months of work in Scandinavia can set you off on a 10 month trip in Southeast Asia. 
This is much easier than making an income whilst in low-wage countries or trying to work online whilst there (mainly due to slow internet). This is one of the best budget travel tips that other budget travel blogs are not talking about!
Budget travel tips #2:

Buy plane tickets in advance
This may kill some of the spontaneity of your trip but plane tickets are in most cases the cheapest when bought 2 months earlier.
Go through websites like skyscanner.com, kayak.com or momondo.com to find the cheapest connection to your destination.
Be creative and think of connections that are not showing up. For example, when we were flying from Poland to the Philippines, all the connections were through Bangkok or Istanbul for around $700 per person. 
After some digging, we found a flight from Budapest (capital of Hungary, the neighboring country to Poland) to Dubai, a 2-day layover in Dubai (which we very much enjoyed), and the final flight from Dubai to Manila, Philippines.
All this for just under $200 per person whilst traveling on a budget with our family. You will need some extra time during your holiday if you want to implement this tip, both for research as well as for possible layovers!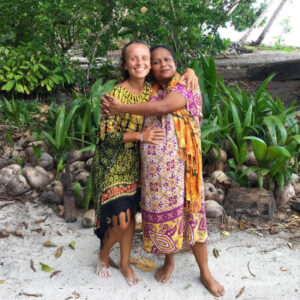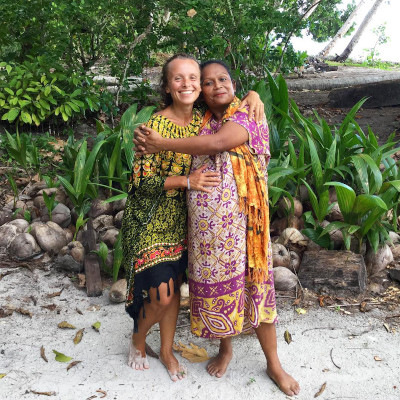 Rent out your apartment, house, or room. 
Think about where you are living now. If you can rent out your home, apartment, or room in your parents' house whilst you're out, this could also be a great source of income. 
Budget travel tips #4:

Travel light
Limit your luggage to a carry-on backpack. The trick here is not its size though. It's the weight. 
Most budget airlines with the lowest ticket prices have a limit of 7 kilograms or 15 pounds of carry-on luggage. One pro tip is to always take an extra bag of food (a simple bag, not a suitcase) to use during the flight. Most of the time the flight staff will not blink an eye.
And to be honest, why would you need more than that amount of luggage on a holiday? The most liberating part about traveling is that you can leave everything behind… including your wardrobe!
 Fly on Tuesday and Wednesday
Tickets become increasingly expensive around the weekend as the demand rises. Airlines will always have the cheapest pricing in the middle of the week when most people are working their jobs and demand is low.
Budget travel tips #6:

Travel light, electronics-wise 
This goes hand in hand with budget travel tip number 4. We only carry an iPad mini and an iPhone as our only equipment. If you're thinking of traveling with a laptop, camera, tripod, phones plus chargers, and cables of each of these devices, think again. 
They often take up most of your luggage space. 
Remember… your iPhone will take the exact same picture as your DSLR camera!
Do not buy souvenirs 
Make a decision that you will not buy any souvenirs for yourself or others. Our rule is that an item of clothing gets replaced if an old one gets destroyed. When traveling to tourist places it is very easy to get sucked into the 'exit through the gift shop' circus!
Budget travel tips #8:

Take one pair of shoes maximum
To be honest we walk barefoot 99% of the time as that's just how 'hippy' we are… We do have a pair of Luna Sandals which are super versatile for walking in rough jungle terrain or on hot asphalt and yet we haven't worn them in months. 
Especially if you are traveling on a budget to a sunny tropical place, you will not need any closed shoes at all. Some immigration offices may require a pair of shoes too if you are planning to visit far-flung places like Papua or remote Indonesia.
Avoid big cities
Avoid big cities like Bangkok, Kuala Lumpur, or Singapore. Our advice is just to think of them as transit hubs and try not to leave the airport. One night in any of these cities can be the equivalent of 2 weeks' spendings in your end destination even if you think you're doing it on a budget.
Budget travel tips #10:

Do not move around much
Stop thinking of yourself as 'traveling' around the world and embrace the idea of 'living', for at least a month, in one place at a time. 
This is linked to visa expenses which cannot be avoided anywhere you go. If a country gives you a visa on arrival for 30 days, you stay 30 days. If you can get a 60-day visa, you max out your stay to 60 days in this country every time. 
Seriously, the most uneconomical thing you can do is fly across the world and only spend 7 days on a short holiday. It's better to save up for that one big trip that will leave you so impressed you will want more.
Avoid expensive activities
Guided tours, sightseeing trips, guided trekking, boat rides, diving, expensive yoga classes, bars, restaurants, none of these are necessary for your survival. 
All of them require a lot of money, which is completely unsustainable long term. These small costs add up to big amounts. After a while, you will realize they are just tourist traps. 
You don't want to think of yourself as a tourist. You want to become the seasoned vagabond, almost a local. Locals don't rush through their day between yoga classes, bars, and massage appointments.
Budget travel tips #12:

Live in non-touristic areas
Avoid tourist clusters. You want to blend into the local folklore. Learn some of the local languages. Adopt a simple life amongst them. This will give you a way more authentic experience than coming back home and saying you met a lot of Australians at the bar.
Let go of luxuries
Especially when in the tropics, let go of the need for air conditioning, wifi, or hot water when it comes to lodging. Furthermore, befriend cockroaches, ants, mosquitoes, and all present animal life. This will put you at peace and save you 💰 in the long run. 
Budget travel tips #14:

Bargain on lodging and rent long-term
Contrary to what you may think, youth hostels and backpacking will not be your cheapest bet. Quite the opposite. Wherever you go, find lodging that you can rent out per month. 
A good deal for me is getting the price down to 40% of the nominal price when rented out monthly. Locals will be more than eager to bargain with you. 
A great tip is to contact the guest houses, Airbnb's, or vacation home rentals on their email address and ask them straight up for a discount. Tell them your budget is limited but that you love their place and that their place is exactly what you are searching for.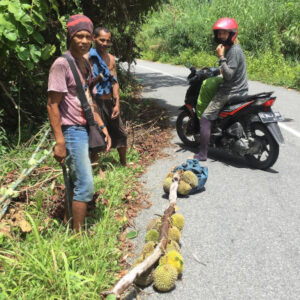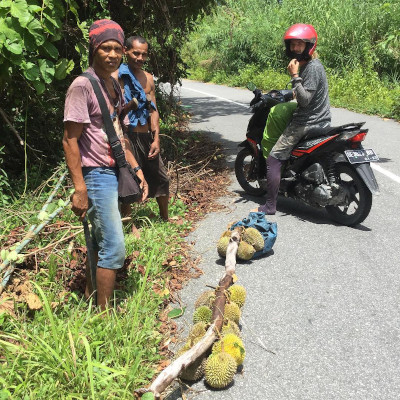 Rent a scooter instead of a car
A scooter rented out monthly, is your best bet. It will take you to off-the-beaten-track places and is the cheapest form of transport around. 
Scooter rental and house in rural areas will always be cheaper than no scooter and a house in a tourist town as there is so much more demand for the latter.
Budget travel tips #16:

Adopt a raw food diet
This is for the more advanced budget traveler. Aim to be out of the restaurant loop forever. This will also mean you can rent out even more basic lodging like summer houses or shacks or bungalows without a kitchen as there is no cooking. 
We have been on a raw food diet for a combined 14 years and we can truly say it is the best travel diet out there, especially in the tropics. No cooking, no washing, no time wasted and you actually feel fantastic!
If you want to know more about our diet, you can read this blog post How To Stop Eating At Night And Lose Weight or read our FREE eBook 'How To Overcome Emotional Eating'.
Avoid supermarkets 
This goes hand in hand with the previous best budget travel tip. Avoid supermarkets. You want to be buying your fruits or produce from old ladies squatting by the side of the road or at the local market at sunrise.
Prices are less than half of what big supermarkets are charging. Make sure to bring your bargaining game!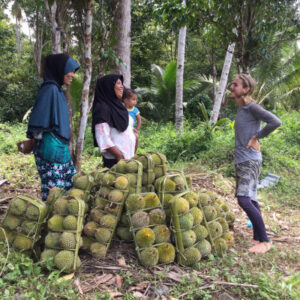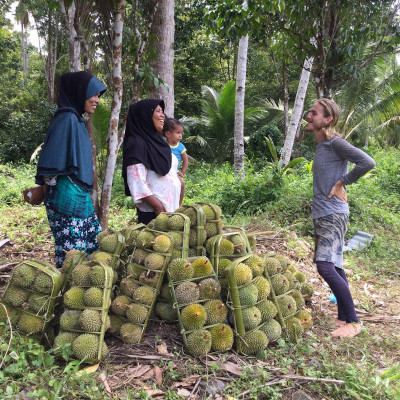 Budget travel tips #18:

Learn how to bargain 
 Learning a few catchphrases like 'I want the local price' or learning the numbers in the local language will improve your
 negotiating position tremendously. We bargain on accommodation, food at the local markets or even clothes whenever we need to buy new ones. This is the best budget travel tip that will save you the most in the long run!
Buy a local sim card
It will pay itself tenfold as you will be free from cafes with wifi and having to seek wifi-clad rooms. There have been dozens of times where a sim card saved our life. 
Be it when we were lost in the middle of the jungle and we could use google maps to find our way out or in crisis situations where we could translate complicated phrases and communicate with the locals seamlessly.
Budget travel tips #20:

Avoid seeking approval
This could get you to hold off on your trip altogether. It's as useless as fishing for compliments. Stop expecting your parents or friends to be excited about your trip. It's not their dream, it probably scares them a little, otherwise, they'd be doing it themselves!
Just do your thing, YOU decide!
One bonus tip
Follow these best budget travel tips but most of all enjoy your holiday! There's nothing worse than trying to save on every single transaction you do during your vacation or road trip. Find your balance and relax!
These were our top 20 best budget travel tips after 6 years of non-stop traveling. We hope you enjoyed them.
Leave a comment below with what was your favourite tip of this top 20 best budget travel tips list.
If you want more budget travel tips, you can always contact us @fitshortie on Instagram!
Happy traveling,
Simon and Tina