Before we start off this blog post we are pleased to let you know our first eBook is now available!!! It is a true masterpiece written by Tina. If you are interested, you can find out more HERE. This is a blog post about our multi-month trip to Spain last year where we ate some of the best fruits Europe has to offer. These will be snippets of our instagram posts knitted together into a beautiful adventure story. If you want to know why you eat figs the wrong way and how to eat figs the proper way without burning your mouth, make sure to read till the end!
It's 16th of September 2019. You guys asked us if we will be in Poland for long. I always answered 'till it gets cold!' and with night temperatures dropping below 10° Celsius this week, we feel in our bones that the time is now. But let's start from the beginning. Why did we come to Europe this summer? Undoubtedly, Chippy's brother's wedding was the highlight of our trip and Chippy being the best man we couldn't miss it. Enjoying the grandparents spoiling Leo and the mushroom fever at my northern summer house had their lure too. But even before the date was set for the wedding or Leo was born we had this dream – explore the fruit-bearing regions of Europe the way we did with Asia! And following our highest excitement – that lead us to South Spain!  
We're going to SPAIN!
Why Spain? Because the fruit season seems to linger there the longest of all European countries. Then you've got the variety: melons, figs, peaches, nectarines, mango, cherimoya, avocado. There's even papaya & dragon fruit growing on the Canary Islands. Our time in Belgium and Poland only confirmed this – all the best fruits we have eaten this summer came in cases with a Spanish stamp. We could have already returned to Asia in October, but our experience shows it's always an in between month for durian in SE Asia with little to no durian in our favourite Bali or Borneo. (Having said that I cannot wait to return to Borneo after Spain and prepare for our Borneo Jungle Durian Retreats in December & January. Man once I get my hands on those red durians again there will be no stopping me!).  
For now our highest excitement are late season figs. Chippy keeps on fantasising about foraging them straight from the trees, whereas I have fallen in love with melons. I have eaten such unbelievable Spanish melons this summer that they have taken over 1st place in my best temperate climate fruit ranking dethroning long time favourite, green figs. There is something else about this trip that makes it special & new – but let me save some excitement for the rest of this post. Will we get to the source of the best fruits Spain has to offer? Stay tuned to find out!  
The adventure begins
19 September 2019 – and we're off! The exciting part is we decided not to fly to Spain, but for the first time ever we are renting a caravan and embarking on a cross-Europe adventure. Passing through Germany and France before we reach Spain in a few days! Right now we are on our way to Northwest Poland to pick up our caravan from an elderly couple that is renting us their family vacation vehicle. Mind you the weather forecast for the night is 4°C so what was to be our first night in our new mobile home might end up with us seeking refuge indoors. Never a boring moment here with Chippy!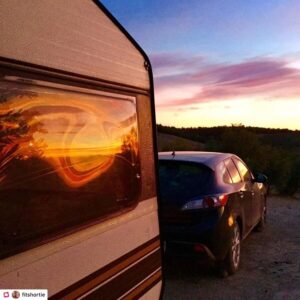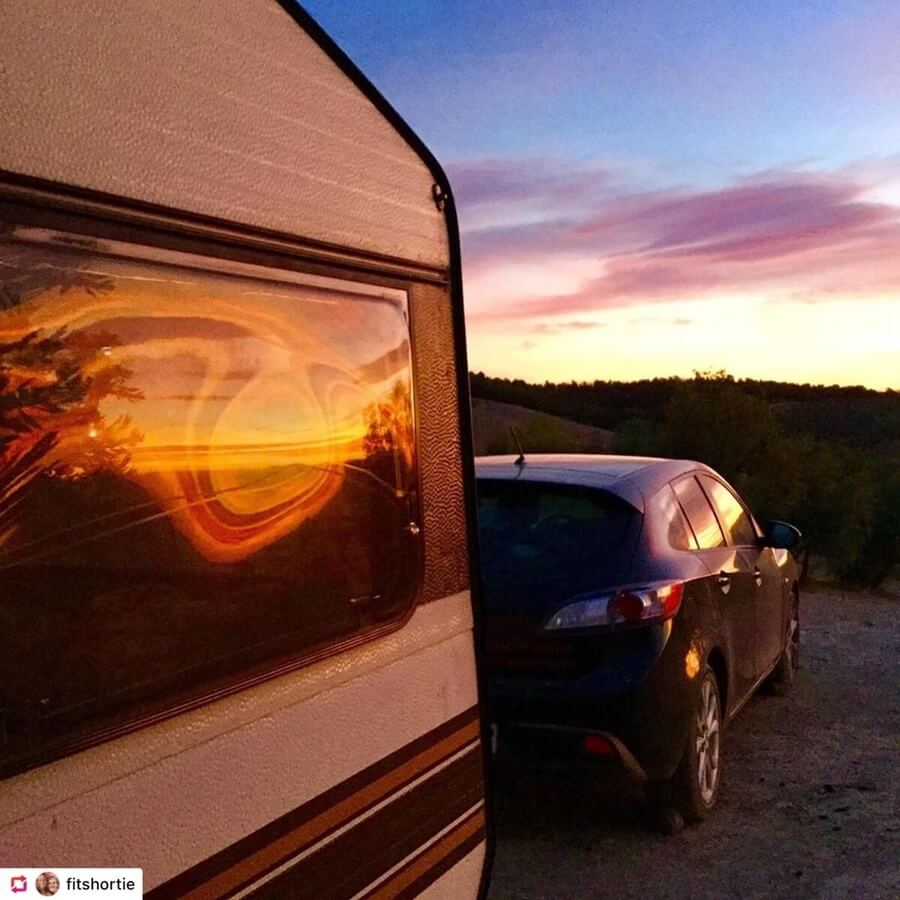 With 4°C morning temperature in Człuchów where we picked up our caravan, it feels like ripe time to move on south. First we bring our German-made caravan back to its homeland, then we drive to south of France. We might have to sleep indoors till we reach Spain, Leo has some Eskimo onesies but we don't lol! We were overwhelmed by everyone who reached out to host us all over Europe – we feel the love! Thank you we really appreciate your hospitality! We are about to cross Polish-German border, big yaaay for EU and hassle free travel cross borders! Direction: Berlin. Still a long way to go. The next night we catch up with our friend Fabio who lives in the south of Germany. He hosts us for a night and we spend a lot of time talking about future plans.
First day in Spain
  25 September 2019 – we love it here! This day may go down in history as the day we ate our best fig ever. Just one hour after crossing the Spanish border we started spotting loaded fig trees. They grow along side roads, in the centres of small towns, in the ruins of deserted houses, in short, everywhere! Beyond excited we started foraging them by the box, Chippy climbing the trees bringing the bounty down to me and the little one. Paradise.
And then we came to this one tree that was just beyond orgasmic. The fully ripe figs were laying under the tree, getting warmed up by the sun, thats right, they were as hot as from the oven! Their insides fully liquid, skin soft and melted, taste in the 'this is just too sweet' category right next to hot toffee or hot caramel. The fig in the picture we shared during Leo's diaper change – but it was the best fig we have ever eaten and goes into our book of 'best fruitarian experiences ever'. What a welcome, Spain, thank you thank you thank you!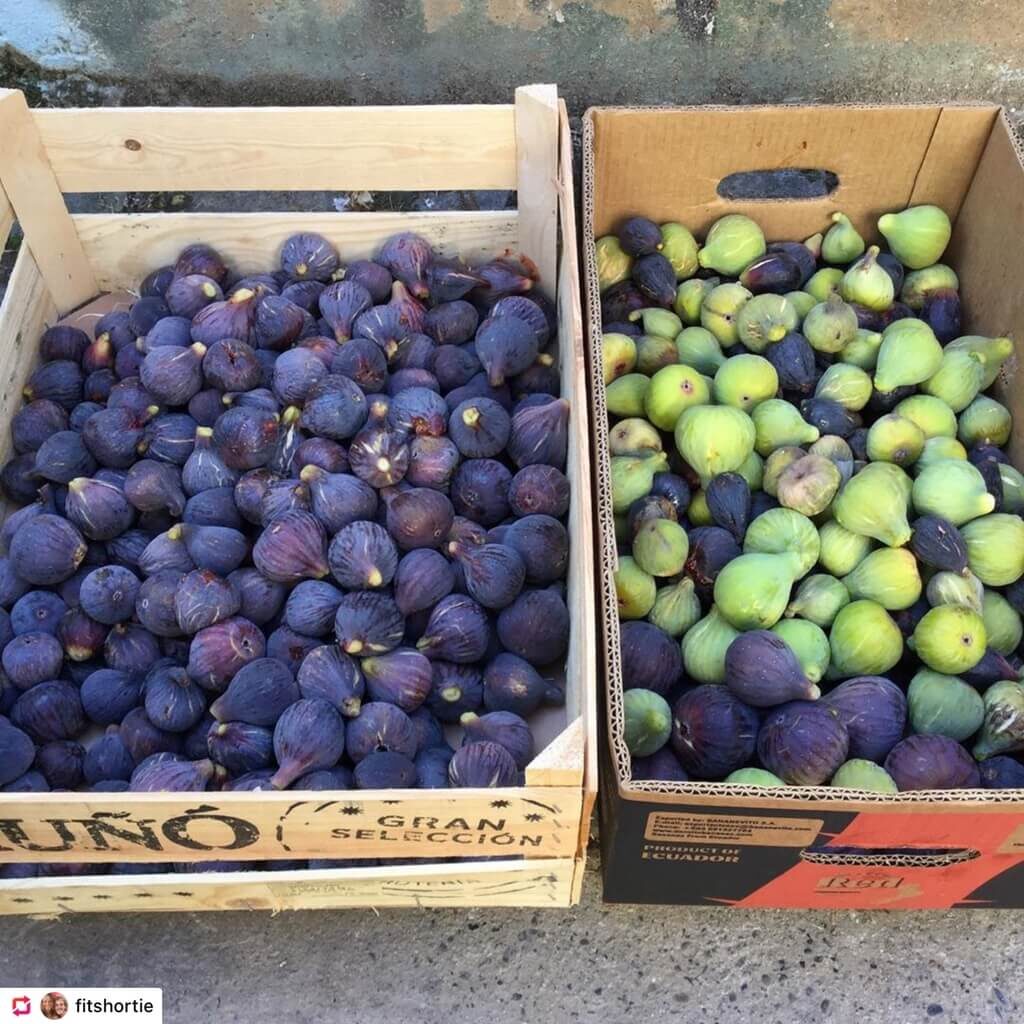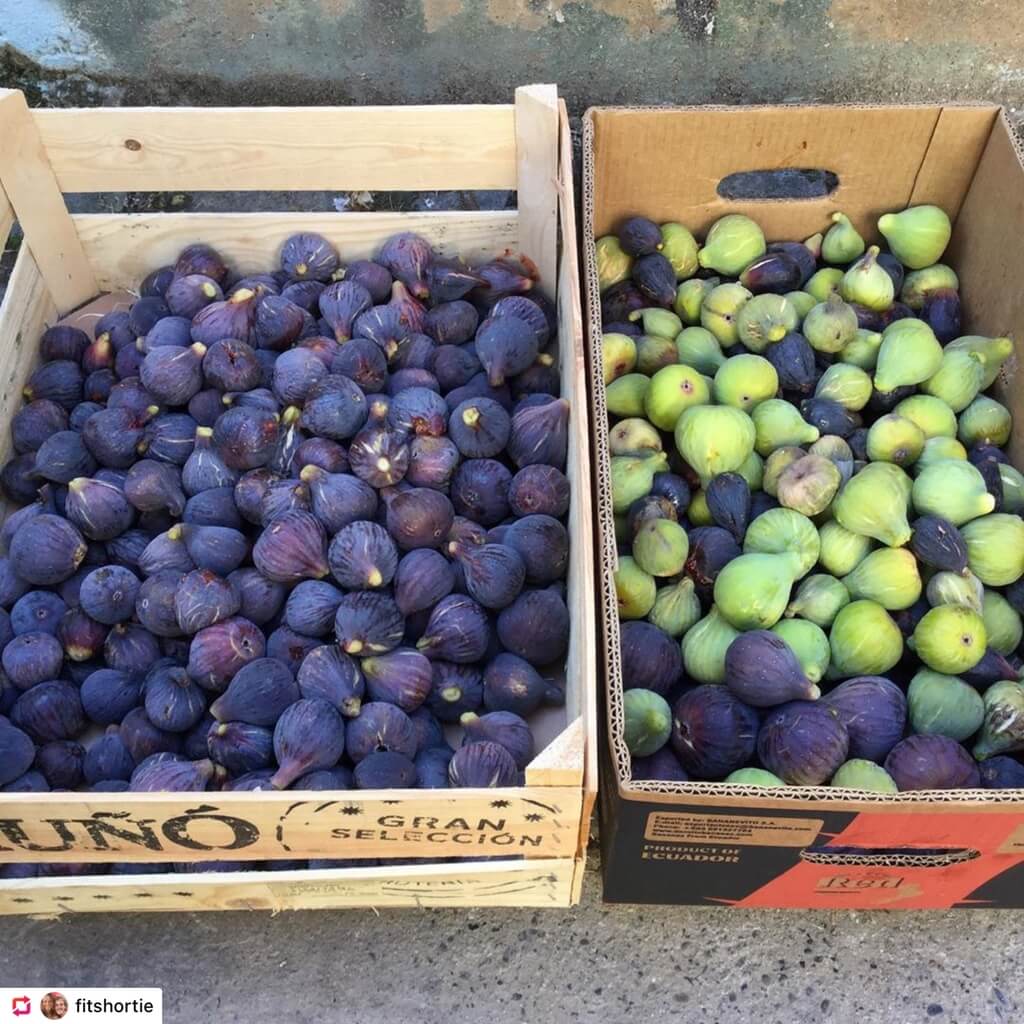 Police can't stop us
Figs is what we came here for and figs we are getting! Their quality is indescribable and the thrill of finding new fig trees as we travel every day has us tickled pink excited! Why? because every fig tree has a completely different taste, we must have eaten so many fig varieties, shame we cannot identify them! Plus they seem to grow everywhere along the sides of the roads whichever new area we seem to explore. As a result Chippy just drops the car and caravan by the side of the road every time he spots a tree, so much that even the local police had to stop us and educate Chippy that he cannot simply park his car in the middle of the road (I told you so!) but even the police here is uber nice and only gave advice on finding proper parking space next time. For now we get figgy with it.
How to eat figs without your mouth burning?
We get a lot of questions regarding how to eat figs without burning your mouth. When figs are picked unripe for transport (e.g. for selling in supermarkets), they contain latex in their skin, same as you see with fruits of the Artocarpus family like jackfruit and cempedak. This is a defense mechanism of the fruit or tree so that animals (including us) would wait until the figs are perfectly ripe on the tree. When you eat an unripe fig and especially when the latex (white sap) touches your lips, it will irritate them and leave a burning sensation.
There are 2 solutions to this. The first one is to let the figs ripen properly on the tree before eating them, quite obvious. But this is not a great solution if you don't live in climates where figs grow. If you have to rely on store-bought figs you will want to wait until they soften up completely. Then you cut off the top of the fig (where it was attached to the tree) as this is the part with the most latex. You then cut the fig in 2 equal pieces and fold them over as if turning them inside out. Now you put the whole half of the fig in your mouth with only the inner flesh of the fig touching your lips. This way you don't come into contact with the latexy skin and you will not get any mouth burns. Enjoy!
Thank you for reading!
Our Spain adventure continues in the next blog post. If you liked this post please share it on your social media platforms and leave a nice comment below! If you would like to know more about our lifestyle you can follow us on Instagram and YouTube at Fit Shortie.
PS: If you want to be notified of our future blog posts by email, head over to the comment section below and whilst leaving a comment make sure to check the checkbox labeled 'Notify me of new posts via email'.