Spain has the best fruit in Europe?
As far as caravan life goes – we love it! Leo loves the intimate closeness the small-scale housing provides. I love the hippy lifestyle. I love having to bathe in freshwater which by the way we found amazing sources of here. Including a waterfall culminating the most amazing nature hike we've ever been on. But does Spain have the best fruit in Europe? Not sure!
Our challenge is finding fruits harvested ripe and especially melons. We've found decent ones but still not the quality we're after. We're not sure why but they seem to be harvested waaay unripe. Does everyone do their own ripening at home? We're now in Castellon, the region known for its melon production, and will be visiting some wholesalers and melon-growing family businesses tomorrow to get the full scope on the melon front. Who's excited?!
Yes, people in Spain are disarming. The other day a lady, where we bought 11 melons, gave us two extra melons for free. She then still chased us with a bottle of her home made soup to try. Same with mushroom pickers! In Poland mushroom pickers are known to keep their picking grounds top secret but the guys we met here not only told us where to go but, again, insisted we take some of their mushrooms! Who would have even thought there are mushrooms growing in this heat?! But there is so much variety of mushrooms growing in the mountain forests its crazy.
19 mango varieties in 1 meal
We have reached the south of Spain. And when we went fruit shopping things got a bit out of hand… We wanted to buy a few mangoes for lunch and came back with five cases of prime quality produce. Sixth case of uber ripe mangoes, avo's and papaya we got as a present. People of Spain are so wonderfully generous. Thank you!
What's even more crazy is that you are looking at 19 varieties of mangoes in the picture below. Lets take a moment to let this sink in… We tried nineteen mango varieties in one meal. In the name of research. In the name of gluttony. Guilty as charged. This mango meal was LE-GEN-DARY! Our favourite by far was a variety called Erwin. Any fellow mango fans out there?
Our dream
I've gotta say we're pretty spoiled with the mangoes out here – our car trunk cannot take any more cases of them, the whole car smells like a heavenly mango orchard. And yet, I still had one dream – pick mangoes myself straight from the tree, without the middle man. You see we live so far from nature most of the time the fruit arrives at our house in cases and we never actually get to see what the fruit trees even look like. You have no idea how many messages we got from peeps excited to see an avocado tree for the first time on our instagram @fitshortie.
Does the average mango lover even know that mangoes hang on these adorable strings from the tree ready to be pulled off? Is there anything more attractive to the human eye (and sticky hands!) than a tree loaded with ripe mangoes?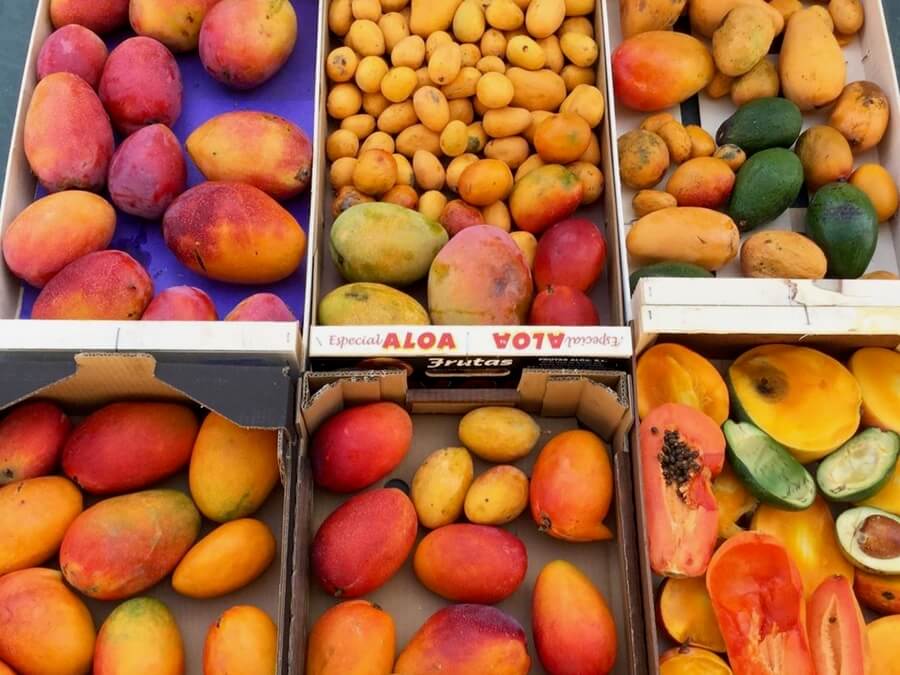 Harvesting our own mangoes
Yesterday my dream came true. Our friend Ramon invited us for a visit to his fruit farm. 'Your home is my home', he said whilst equipping us with buckets to pick our own fruit. Bearing in mind he has over 200 exotic fruit varieties growing in his orchard we felt like Charlie in the Chocolate Factory! Whilst many fruit trees we recognised from the tropics, others we only dreamed of seeing like atemoya or chocolate sapote. Not to mention plenty of berries we have never even heard of.
Completely out of the blue we had our best-ever guava experience. Whereas in the tropics they taste completely of nothing, Ramon's guavas tasted of no less than waffles with strawberries & smoked bacon. As they say if you don't like a fruit, you haven't had a good one.
After picking mangoes so ripe they come off the strings effortlessly we finally know what a tree-ripened 10/10 mango tastes like: heavenly rich dark orange thick nectar. His Osteen mangoes created a new benchmark for us and might be the best fruit in Europe we ever tasted. Even though his farm only yields 2-4 boxes of premium quality mangoes per week, Ramon insists we take 20+ kilograms of mangoes with us plus all the exotic goodies. So generous! Thank you for showing us what mango paradise looks like Ramon!
Daily dipping
It's been a month since we've been on the road! Freaking loving caravan life. We've wild camped for the night in some of the most amazing nature spots we've ever seen. Spain has such epic nature, there's such vast uninhabited stretches. We love it. Fun fact: other than a shower at our friend Fabio on our way through Germany, we have not showered or bathed even once (in chlorinated water). Instead we seek out water holes on our way as a daily ritual and bathe in nature whether it's the sea, a river, a lake, a hot spring, a waterfall, you name it. More than often we've dipped in two different spots in one day.
Spain is full of these hidden gems especially these uber clean mountain rivers and water holes with almost freezing water temperatures have been a different kinda fun. We've had to re-visit Wim Hoff's techniques for ice water dips but boy oh boy does your body feel good after an icy splash! Not only ice cold, some of these water holes have had the cleanest most see through water we've ever seen. Like this one below, a series of three unbelievably transparent ponds located on private property reachable after a long winding road only for people without fear of heights. If you want to visit this place the entrance gate is right HERE , call the number at the gate and the owner of the land will come and open the gate. It is then about 30 minutes driving down on a winding gravel road.
Hot springs are the best
What looks like shallow water here is not! Simon was of course jumping into the left hand corner of this pond from a 6 metre cliff, it's that see-through whilst deep! But my very favourite is hot springs. We've been to four hot springs in Spain and loving it. Why? Because we can take baby Leo in as well. He loves it. Watching him swim, splashing the water whilst in my arms is like watching pure joy embodied. He loved being bathed by the grandparents before but I always had mixed feelings bathing him in tap water, knowing the chlorine calcifies your pineal gland. It's not easy when you've researched too much lol. But thermal springs is something else and half of them have been at 37°C, perfect temperature to bathe a baby! Whoever created this world is a genius. 'If we ever stop hunting fruit trees, let's go chasing hot springs!' – I told Chippy. The hot spring we are talking about might be the most magical one we have been to (very interesting crowd). It's called Santa Fe hot spring in Santa Fe, Granada.
The freedom of caravan life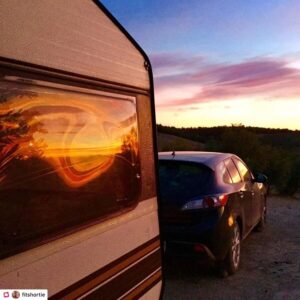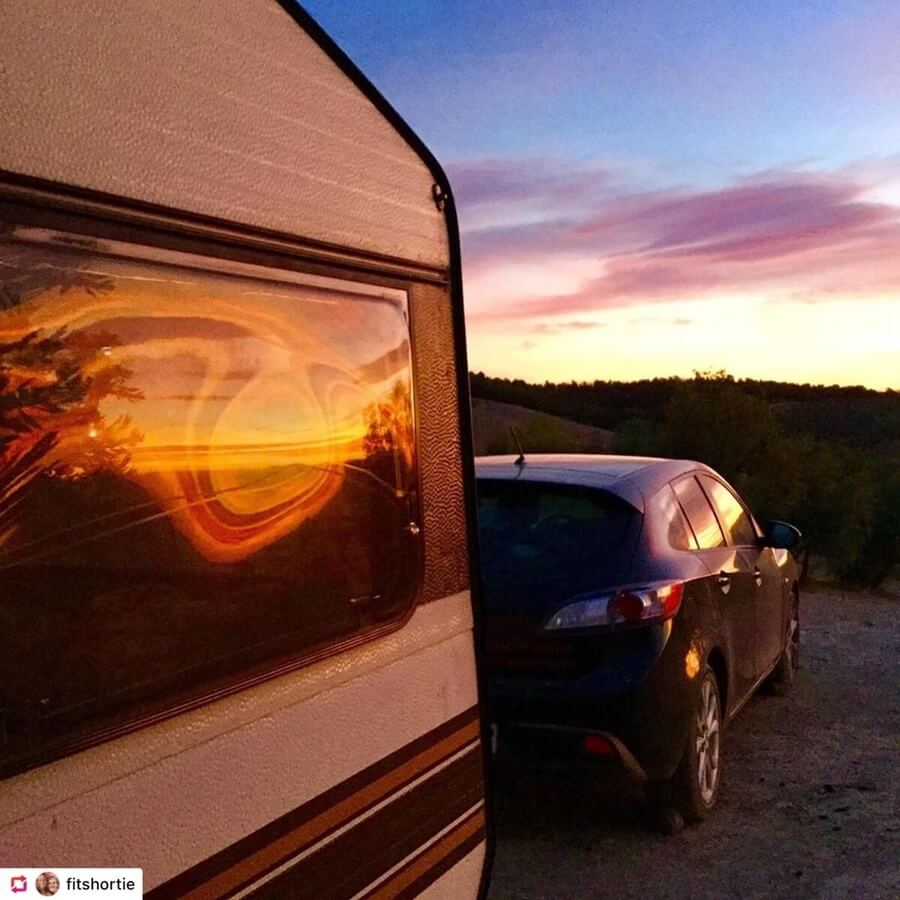 Sunset lights reflecting on our caravan. It's been over a month since we've taken our rented out 30 year old caravan cross Europe to Spain. To tell you the truth, I didn't know if I was going to like it at all. Just the idea of such a small space with a 5 month old seemed challenging. In retrospect there was nothing to fear! Leo loves having us so close at all times. Even when he's playing alone we're never too far away on our giant square bed which takes up most of the space in the caravan.
In fact, two days into our trip at five and a half months he started crawling and is now climbing and standing up so the enclosed space seems ideal. The long drives to get to Spain were cool too. He slept through most of it, bless him, and when he didn't I rotated an array of self-made toys from scraps to entertain him. Once in Spain caravan life was ideal for us. It really fitted our nature loving lifestyle and the freedom to sleep anywhere was priceless.
We slept at clifftop parkings above the beach. At hot springs. In the forest. 'Home is where you park it' as our friend, Robert, a van life veteran says. We have lived without electricity for four weeks only charging our iPad in the car. Folding into bed when it got dark and waking up at sunrise. Even though our caravan had gas and water we chose not to get them connected at all. Washing the few dishes we had at random points. We lived freely. Only on the way to Spain did we plug into electricity to rev up a tiny electric heater when the night temperatures dropped considerably. Question is how much will they drop on our way back north?!
A good option for budget travel
This caravan has given us the opportunity to take a long slow seven week trip which would have been impossible otherwise with the European lodging prices being five times that of Asia. We can get a villa in Bali rented long term at 7€ per night whilst 40€ in Spain only gets you a room with shared bathroom at someones place on airbnb. You get the idea. And used to the freedom of traveling on a motorbike, we loved the liberty of living all over the place in a caravan. Why am I using the past tense, not sure?! We still are. Living like gypsies, living like hippies, loving life.
Time to go, winter is coming
And just like that it was over. It started in the middle of the night. I was awake, strange because Leo wasn't, and as a breastfeeding and co-sleeping Mum I make it my business to sleep like a log whenever I can. I was awake because the caravan was swaying. Swaying in a wind so strong it made the 30 year old german-made wagon squeak. Add to that heavy rain drumming hard on the plastic roof.
In my head I silently cursed Chippy for parking on top of the biggest hill in the olive orchard. A snug little valley sheltered from wind would have been so much more cosy now. Then I remembered the registration papers of the caravan: 950kg of mass. Add to that at least another 1000kg of the car. Ok. We're safe, no storm can blow us away from this crazy hilltop. I fell back to sleep, but a few hours later woke up from the sudden morning cold and took Leo under my covers, little one in his bear suit n' all.
Our morning walk to the hot spring was different too. Despite layering all our summer clothes on top of each other we were shivering. The hot spring was covered with layers of steam. We quickly stripped naked and dove into the hot water. 37-40°C how perfect! 'Look!', one of our friends said pointing at the nearby mountain range. There it was the unmistakeable snow cap. Winter was coming. We took it as nature's signal we had to head back home. And book our flights to Borneo. Later on we found out it was 6°C that morning and we were bathing naked and all with the little one. No one got sick or even had a runny nose. We ate a box of best-ever cherimoyas, sketched a route to Belgium and headed back north.
Your 'best fruit in Europe'?
We would love to hear your thoughts on our Spain adventures. Leave a comment below! What do you think is the best fruit in Europe? If you want to be notified of our future blog posts by email, head over to the comment section and whilst leaving a comment make sure to check the checkbox labeled 'Notify me of new posts via email'.
We are pleased to let you know our first eBook is now available!!! It is a true masterpiece written by Tina. If you are interested, you can find out more
HERE
.